Small and Rural Communities Praise Senators Wicker (MS) and Congressmen Harper (MS) for Passing S. 611, "The Grassroots Rural and Small Community Water Systems Assistance Act."
On November 30, 2015, the House of Representatives approved S. 611, "The Grassroots Rural and Small Community Water Systems Assistance Act."  The bill passed the Senate on May 18, 2015 and the National Rural Water Association expects President Obama to enthusiastically sign the bill into law.
The National Rural Water Association is a nationwide non-profit association with over 31,000 small and rural communities as members.  Our members and all small and rural communities have the very important public responsibility of complying with all applicable federal water regulations and for supplying the public with safe drinking water and sanitation every second of every day.  Most U.S. water utilities are small; 94% of the country's 51,651 drinking water supplies serve communities with fewer than 10,000 persons, and 80% of the country's 16,255 wastewater supplies serve fewer than 10,000 persons.  Small and rural communities often have difficulty providing safe, affordable drinking water and sanitation due to limited economies of scale and lack of technical expertise.
All small and rural communities are very grateful to Senators Wicker and Representatives Harper for sponsoring the legislation and guiding it to passage in Congress.  This is likely the most significant safe drinking water authorization legislation enacted since the passage of the Safe Drinking Water Act in 1996.
Kirby Mayfield, CEO of the Mississippi Rural Water Association said, "Of the hundreds of millions of dollars provided to the EPA by Congress each year, small and rural communities will tell you they get the most benefit from the dollars provided to on-site technical assistance initiatives.  Small communities want to ensure quality drinking water and comply with all federal mandates and this new law will provide the technical resources that many small communities lack to meet this mission.  It is essential that the person providing technical assistance is an expert in the operation and maintenance of a water supply, not just expert in the rules and regulations. This ensures that assistance providers will be able to educate the community on "how to" comply versus merely explaining that they must comply.  These on-site technical experts are called Circuit Riders.  This Circuit Rider concept was designed and funded by Congress to allow small communities access to technical expertise that is available to most all larger communities.   The Act directs the EPA to target Congressional funding for the most beneficial assistance to small and rural communities.  This provision would make implementing the program easier for EPA by providing greater clarity of the intent of the Congress.  The 'preference' provision in the bill reduces (or eliminates) the subjectivity for EPA in administering technical assistance appropriations."
On behalf of Mississippi Rural Water Association, Mr. Mayfield would like to thank Congressman Harper and Senator Wicker and their staff for their diligent work in seeing this legislation pass. Rural water systems in the state of MS and the nation as a whole will greatly benefit from this legislation.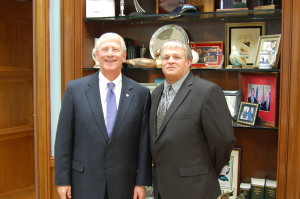 Senator Wicker and Kirby Mayfield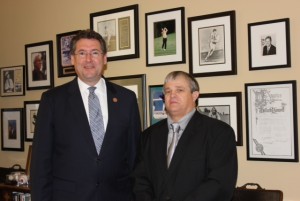 Representative Harper and Kirby Mayfield