Obituary for David Keith Carraway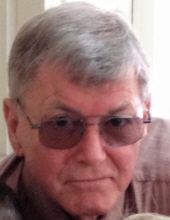 David Keith Carraway, age 67, of Hattiesburg, MS, was received into Heaven's Glories by his Great God and Savior, The Lord Jesus Christ, on Wednesday, February 28th, 2018, while a patient at Merit Health Wesley Medical Center, Hattiesburg.
Mr. Carraway had been a former resident of Bassfield until relocating to Hattiesburg in 2007 for the furtherance of his software company, Carraway Computer Systems, LLC. A programmer, he developed a utility billing software package, EasyBill 32, that… is currently being used by water systems and other utilities throughout the United States.
David is the son of William Harold "Bill" Carraway (deceased) and Marilyn Speights Carraway of Bassfield, MS. He is predeceased by two brothers, Roy Harold and Billy Gale. He is survived by his devoted wife of 45 years and the Hattiesburg American's Faith and Values columnist, Joanne Carraway; two children, Derian Bree Carraway of Hattiesburg and Aaron Eliot Carraway of Lumberton; one brother, Ken (Lisa) Carraway; Ellen Carraway, sister-in-law; and Wayne Fortenberry, brother-in-law; all of Bassfield.
David grew up in Pahokee, Florida, attending elementary school and high school there. His family returned home to Bassfield in the 70s and David soon followed after attending a year of electrical engineering school at Florida Tech in conjunction with a Florida Power and Light apprenticeship. Upon returning to Bassfield, he met and married the love of his life, Joanne Fortenberry. The two children born into their marriage, Bree and Aaron, now capably give software support to EasyBill 32 Software users, having been enthusiastically taught by their father and commissioned by him to become the "next generation" of his company. David was the proud "Peepaw" and talented Mickey Mouse impersonator to his precious 3 grandchildren, Hannah Lee, Michael Lee, and Jadyn Viniard.
In David's early years of marriage, he began a career as technician with the fledgling Educational TV instruction in the public schools of Jefferson Davis County. He would later earn a degree from the University of Southern Mississippi in the vocational education area and teach as the electrical trades instructor at the Jefferson Davis County Vo-Tech Center in Carson. After completing studies with the National Radio Institute in the field of computers and programming, he began a career in the Jefferson Davis County Schools Superintendent's Office as Data Processing Director and Business Administrator. He taught teachers on the use of computers in the classroom and served as an adjunct instructor in this same field for then William Carey College.
Since David, as a high school senior, came to understand the Gospel and accept Jesus Christ as his Redeemer through the clear presentation of a Gideon in the United Methodist Church of Pahokee, Florida, he had a special love for the work of The Gideons International. As a result, his desire in nearing death was to name the Gideons in the Hattiesburg Camp and the Lamar County Camp as honorary pallbearers.
His love for Christ and the Good News that all people can be redeemed through faith in the work of His atoning Cross only grew stronger and deeper through the years. David was an interim pastor for approximately 3 years and founding leader for New Beginning Church, Columbia, MS, actually participating in the physical construction of the church building. He was honored to have previously served during that time as an assistant minister to international Christian speaker and author, Howard O. Pittman of Columbia, having been ordained into the ministry by Evangelist Pittman. David greatly enjoyed helping with the radio and touring Gospel Music ministry of his wife and daughter as the Christian Country duo, Country Praise, during the decade of the 90s. In recent years, as a member of Crosspoint Church, Hattiesburg, he immeasurably enjoyed leading small group Bible Studies with his wife.
David valiantly fought head and neck cancer on 4 occasions since the year 2000. Those whom he encountered during these trials frequently heard him quote the Book of Job, "though He slay me, yet will I trust in Him." Visitation will be at Crosspoint Church, Highway 589, Hattiesburg, beginning at 12:30 p.m. on Saturday, March 3rd, with services led by Pastor Dr. Dean Register at 2:00 p.m. and additional speaking given by long-time friend and Pastor of New Harvest Church, Collinsville, MS, David Dewease. Interment will follow at Jefferson Marion King Cemetery, Santee Methodist Road, Bassfield. In lieu of flowers, the family requests donations be made in David's memory to the placement of Bibles by The Gideons International.
You can visit his Tribute wall at https://www.moorefuneralservices.com/obituaries/David-Keith-Carraway?obId=2979189#/obituaryInfo